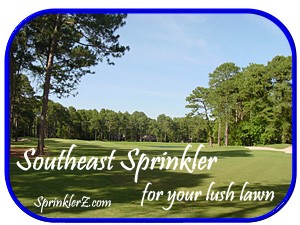 Southeast Lawn Sprinkler Parts or Accessories for the Southeast United States
Are you somewhere in the southeast U.S. like Florida, Georgia, Louisiana, South Carolina, or North Carolina and in need of Rainbird, Hunter, or Febco sprinkler parts or sprinkler supplies?
Living in the southeast is a wonderful way of living. Temeratures are moderate and most areas of the southeast do not face harsh winters like people living in the northern states do. Those living in the southeast that want to have a lush green lawn or a healthy garden realize the benefit and importance of having a Rainbird or Hunter underground sprinkler irrigation system installed. If you do not currently have an automatic lawn sprinkler system but would like to install a system yourself, we offer underground lawn sprinkler parts and sprinkler accessories. We have everything that you will need to install a system by yourself. We can provide you with Rainbird or Hunter controllers, sprinkler heads, sprinkler timers and anything else (except the initiative to get going) to install and maintain your lawn sprinkler system in the southeast.
Our online catalog of sprinkler parts and accessories features some of the best brand names of sprinkler parts or sprinkler accessories available for residential or commercial applications. We also carry a large selection of parts and accessories for your water feature or fountain. We also stock outdoor landscape lighting products by Kichler that can be used to help protect your home or business or to simply create dazzling outdoor lighted focal points.
Whatever you need to keep your lawn growing and your home or business or landscape features a wash in beautiful lighting by Kichler, you are sure to find everything that you need when shop through our safe and secure online shopping catalog of underground irrigation supplies and landscape water features or gardens equipment.
Automatic Sprinkler System, Inground Sprinklers, Underground Sprinklers Michigan, Rainbird Sprinklers, Rainbird Sprinkler Controller, Rainbird Sprinkler Clock , Rainbird Sprinkler Heads , Rainbird Parts, Hunter Sprinkler Timer, Hunter Controller, Hunter Sprinklers, Febco , Febco PVB , Febco 765 Repair Kit, Febco Backflow Preventers ,Febco Vacuum Breaker
Shop for sprinkler parts or supplies now